Social Good Software helps you create Digital Membership Card IDs for your organization that your members can download in PDF form and save to their Apple Wallet and Google Pay. To help you set up your Membership Card ID, we will first identify the feature of your membership card and then discuss some variables to understand when to use them.
Membership Card ID Settings
1: View all options available to set up your Digital Membership Card IDs by logging in to your Social Good Software account. Proceed to Development, then Membership Cards.
2: Click Add Membership Card to create a new card or select the existing Digital Membership Card that you want to set up.
3: You can now view all the options to set up your membership cards. This guide will focus on Membership ID, Constituent Membership ID, and Custom field.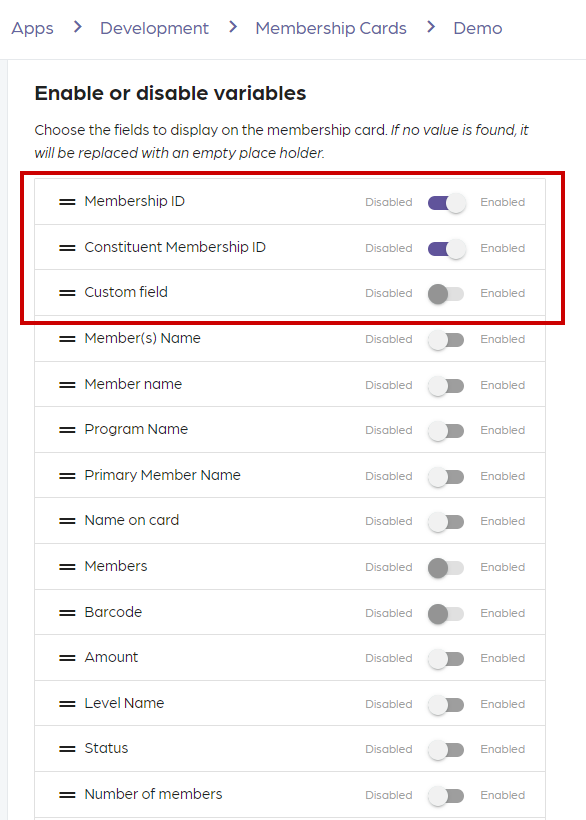 Custom Field
It is only available on iOS and android.
The value you enter by typing it in (Great for member benefits).
Only works on the back of the digital cards (Not the web version)
Constituent Membership ID
It is the Look-up ID for the constituent in Altru.
We need to reference this as the membership so the label says "Membership ID" even though it's the lookup ID.
Membership ID
It is the value attached to the membership.
We hope this guide helps you distinguish between the two Membership IDs in your Digital Membership Card and be able to determine when you can use the Custom Field. If you have questions, please reach us through our support channel or email support@socialgoodsoftware.com. We are always happy to help!