Software license
3 Apps
One Checkout Flow
Google Analytics
Digital Membership Cards
Digital eTickets
Help Docs
Ten Team Members
Email and Chat Support
Standard Plan Included
All Apps Included
Three Checkout Flows
Membership Portal
Google Sheets / Excel Integration
Constant Contact Integration
Mailchimp Integration
Active Campaign Integration
Acknowledgement Letters
Unlimited Team Members
Email and Chat Support
Expert
Call for pricing
Billed yearly
Professional Plan Included
All Apps Included
Six Checkout Flows
Business Intelligence
Phone Support
Staging Database
API Level Access
Integration Support
Email and Chat Support
Software Features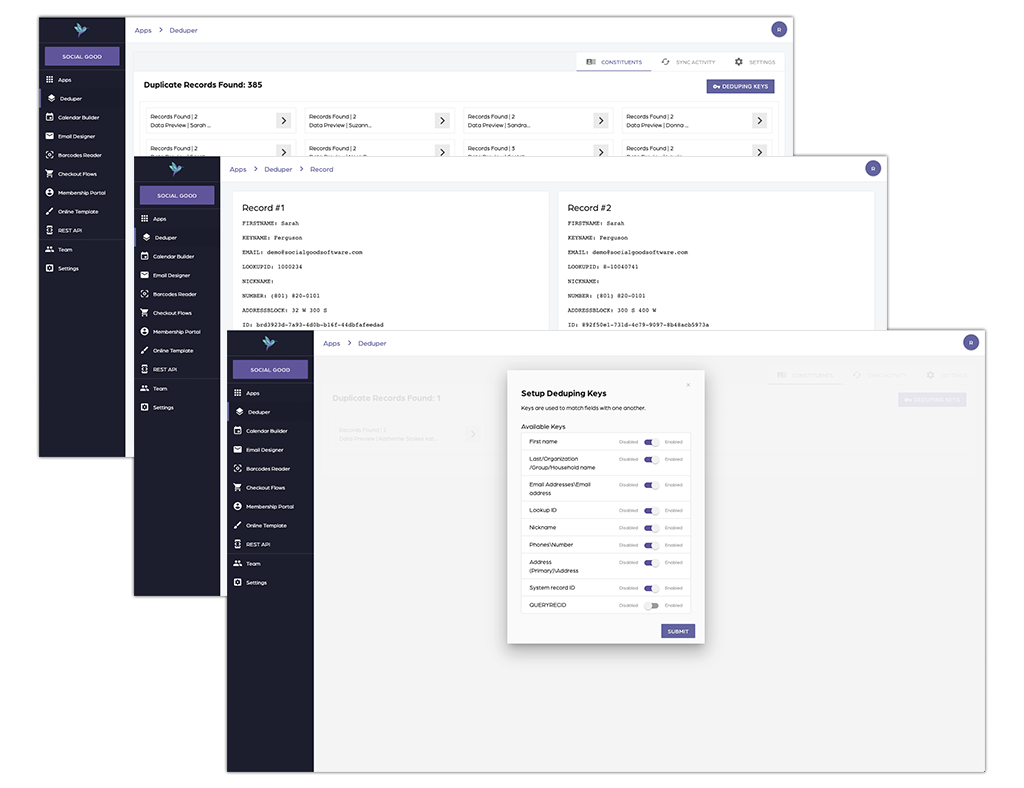 Deduper
View duplicate constituent records at a glance.
When you Import data from other data sources such as web forms or data migrations, data can become inconsistent, and you could end up having multiple constituent records of the same constituent. With the Deduper tool, you can quickly find the duplicate records in Altru and you can either merge them or remove them from the system with one simple screen.
Common Questions
What happens after I register?
What's the setup process like?
Which plan do you recommend?
What happens if I want to cancel my account?
Do I need a web server?
Can I use my domain name?
Do you charge an Altru Integration fee?
Who can I contact with additional questions?
Can I change my plan?
I'm migrating from another service?
(Edit)